APPSC Gazetted Officer Syllabus 2020: APPSC Non-Gazetted Officer Syllabus 2020 and Andhra Pradesh Gazetted Officer Syllabus 2020 for Prelims & Mains is discussed here. Download the APPSC Gazetted Officer Test Pattern 2020 for find the all exam information. Collect the APPSC Gazetted Officer Admit Card 2020 for attend the written examination, to check the APPSC Non Gazetted Officer Exam Date and APPSC Gazetted Officer Exam Centre 2020 details for know the complete exam information. Download the Andhra Pradesh Gazetted Officer Previous Year Question Papers and APPSC Gazetted Officer Model Paper at pdf to take a practice exam by themselves to predict your preparation level of both week and strength areas. To get select in the upcoming APPSC Gazetted Officer Written Exam, everyone should use the given study materials and preparation books at online. Follow Freshersexams.com to check APPSC Gazetted Officer Recruitment 2020 latest updates from psc.ap.gov.in.
Organization Name
Andhra Pradesh Public Service Commission (APPSC)
Post Name
Gazetted Officer & Non-Gazetted Officer Posts
Notification Number
Gazetted Office – 14/ 2019, Non-Gazetted Officer – 15/ 2019
Total Vacancies
Multiple
Exam Date
Gazetted Officer – 21st to 24th September 2020, Non Gazetted Officer – 25th to 27th September 2020
Admit Card Release Date
2nd week of September 2020 – Tentative
Category
Syllabus
Selection Process

Prelims Test (If Necessary)
Mains Examination
Physical Test
Interview
Document Verification

Job Location
Andhra Pradesh
Official Site
psc.ap.gov.in
APPSC Gazetted Officer Syllabus 2020
Prepare the APPSC Non-Gazetted Officer Syllabus & Exam Pattern. Visit the psc.ap.gov.in for Non-Gazetted Officer Written Exam Syllabus. Download APPSC Gazetted Officer Syllabus @ psc.ap.gov.in, APPSC provide the Non-Gazetted Officer Syllabus 2020 and Test Pattern for the complete preparation. The APPSC Non-Gazetted Officer Exam Pattern 2020 and Study Material PDF for Gazetted Officer vacancies. Check out CIL Management Trainee Question Papers with Answer sheet. By preparing with the given APPSC Non-Gazetted Officer Syllabus 2020, candidates can qualify in the test. We provide the APPSC Gazetted Officer Syllabus and Exam Pattern for the cover all the topics, we will also update about the Exam Centre & Exam Date. APPSC Non-Gazetted Officer Syllabus is officially released by Andhra Pradesh PSC exam conducting authority.
Syllabus Of APPSC Gazetted Officer – Logical Reasoning
Clocks & Calendars.
Number Ranking.
Non-Verbal Series.
Statements & Conclusions.
Decision Making.
Blood Relations.
Analogy.
Arithmetical Reasoning.
Embedded Figures.
Syllogism.
Data Interpretation.
Coding-Decoding.
Cubes and Dice.
Alphabet Series.
Statements & Arguments.
Number Series.
Directions.
Mirror Images.
Andhra Pradesh Civil Assistant Surgeon Syllabus – Aptitude
Problems on Ages.
Square Root and Cube Root.
Problems on H.C.F & L.C.M.
Compound Interest.
Time and Distance.
Chain Rule.
Volume and Surface Area.
Clocks & Calenders.
Surds and Indices.
Average.
Area.
Blood Relations.
Probability.
Time and Work.
Partnership.
Data Interpretation.
Simple Interest.
Boats and Streams.
Allegation or Mixture.
Simplification.
Pipes and Cistern.
Decimal Fraction.
Logarithm.
Ratio and Proportion.
Permutation and Combination.
Height and Distance.
psc.ap.gov.in Gazetted Syllabus – General Awareness
Sports.
Daily News.
Famous Personalities.
Culture.
Indian Constitution.
Economic Scene.
States & Capitals.
Countries and Capitals.
Art & Culture.
Geography.
History.
Countries & Currencies.
Current Events.
National & Internation affairs.
Scientific Research.
Current GK.
Sports & Games.
APPSC Recruitment Syllabus – English
Error Spotting/Phrase Replacement.
Synonyms
Word Formations.
Grammar.
Phrase Replacement.
Sentence Corrections.
Articles.
Antonyms.
Adverb.
Cloze Test.
Sentence Rearrangement.
Reading Comprehension.
Para Jumbles.
Fill in the Blanks.
Meanings.
Subject-Verb Agreement.
Unseen Passages.
Idioms & Phrases.
Missing Verbs.
Adjectives.
Verb.
APPSC Non-Gazetted Officer Exam Pattern 2020
We have given various links of APPSC Gazetted Officer Recruitment 2020 in below page. Use the links to open the question papers and attend the exam by yourself. Mostly the APPSC Gazetted Officer Exam Pattern are given in Multiple Choice Questions – Descriptive Type, so already answers given applicants need to choose the right answers. Just understand the questions and start comparing all the answers, based on the difference the correct answer will predict by the aspirants from their APPSC Non Gazetted Officer Exam Pattern preparation level. Soon start your preparation from here and end with the selection list from the result announcement. Keep rocking your studies to achieve your aims with your unlimited knowledge.
Assistant Chemist in A.P. Ground Water Service Exam Pattern

Assistant Director in Andhra Pradesh Town & Country Planning Exam Pattern

Civil Assistant Surgeons in A.P Exam Pattern

Assistant Welfare Officer in A.P Exam Pattern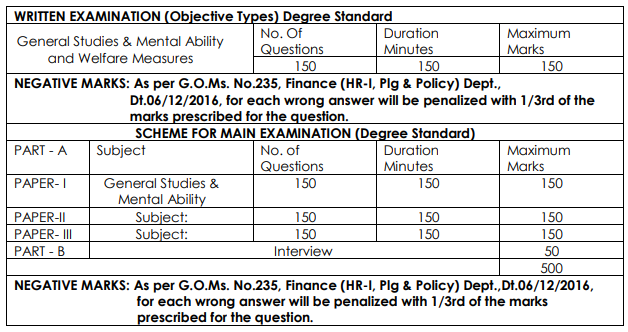 Town Planning Assistant in A.P. Town & Country Planning Service Exam Pattern

Technical Assistant Exam Pattern

Zilla Sainik Welfare Officers in Sainik Welfare Service Exam Pattern

Royalty Inspector In A.P. Mining Service Exam Pattern

Education Qualification & Age Limit
To apply for this APPSC Gazetted Officer Recruitment, candidate should qualified in Bachelor with B.Ed recognized board or university. The minimum age of 25 to maximum age of 35 years are prescribed by the official board to shortlist the eligible candidates for apply to this State Government Recruitment 2020.
Document / Certificate Verification
Bringing much cheer to candidates, who have passed the APPSC Gazetted Officer exam and plan to get the exam verify their qualification certificates before attending job interviews, an official release has stated that from now onwards candidates can avail the service online instead of spending valuable time at government offices. A candidate who has applied to the Commission on a previous occasion should produce the required documents even though they might have produced the same on a previous occasion and were returned to him. The Original Certificates in support of the claims made in the on-line application, should be produced at the time of the Certificate Verification – Oral Test or when called for by the Commission. One set of xerox copies of all certificates along with a copy of photograph identical to the one that was submitted in the application, should also be handed over while attending the Certificate Verification – Oral Test.
Aadhaar Card/ Printout of E-Aadhaar,
Voter ID Card,
Driving License,
PAN Card,
Passport,
ID Card issued by University/ College/ School,
Employer ID Card (Govt./ PSU),
Ex-serviceman Discharge Book issued by Ministry of Defence.
Any other photo bearing valid ID card issued by the Central/ State Government.
APPSC Non Gazetted Officer Previous Old Question Papers & Study Books, Preparation Materials
The Previous Year Papers are available here. Contenders can easily download the APPSC Gazetted Officer Last 10 Years Question Papers in English & Hindi. Stepwise procedure for downloading the APPSC Non Gazetted Officer Previous Year Question Paper for written examination is granted below. APPSC Gazetted Officer Previous year Question Papers for 2018,2017,2016, 2015 and 2014 available in PDF free download below. The books are important for everyone to cover all the subjects wise syllabus topic, based on the official announcement, we have collected the book name with author name listed in below page. Aspirants are suggest to use the given Books and Study Materials for know the brief explanation for every chapter to deep preparation and get qualify in the upcoming written exam. The depth study helps to candidates to improve the understanding level and secure the maximum marks in the test.
Preparation Tips
The best time to study is in the morning itself. So, make sure you have got enough sleep at night so that you can get up early and cover what's important.
Candidate should start to plan properly and create a suitable timetable to study.
Allocate time to learn new topics as this means learning everything.
After completing all the topics in the given syllabus, candidates are needing to revise all the prepared chapters to get remember with the help of keynote for avoiding confusion at the official exam commencement.
Learn the easy one along with one difficult topic.
No extra time will be allotted to you, in case you shall not be able to complete the entire paper. So, make sure you will have to complete within the allotted time.
Group study is use full to crack any written examination. Candidates are required to know the full syllabus of the exam.
Get update the syllabus and exam pattern to cover the complete details of the exam marking scheme and topics. Lastly, keep your motivation level high and don't compare with anyone.
The exam is the first stage of the examination conducts for all the applied students. We enlisted the pointwise preparation steps to qualify in the written exam.
The exam commenced for a certain time allotted by the authority, candidates are should complete the exam within the given period. So, candidates are advised to make a practice to manage time by using old question papers.
Upcoming Exams
WBPSC Clerk Syllabus 2020 West Bengal Clerkship Exam Pattern, Books
WBPSC Clerk Previous Papers & West Bengal Clerkship Model Question Papers
UKPSC Additional Private Secretary APS Prelims & Mains Syllabus 2020, Exam Pattern
UKPSC Additional Private Secretary Previous Papers & Uttarakhand APS Model Question Papers
JPSC Assistant Director Agriculture Previous Papers & Jharkhand ADA Model Question Papers